Day Light Robbery and the BANKS will NOT HELP Even Worse the POLICE will not DO ANYTHING listen to the to the Police recording, second video down.
What chance has the normal working man in the UK today GOT!!!! This is a recording of Raheel who owns or is employed by. As you will see from the recording he is an accomplished barefaced liar if you see the other victims below he has had lots of practice.  The man is a thief and should be stopped and all his assets should be sized.
NOOR AND AMIS AUTO
521 Warwick Rd, Tyseley,
Birmingham,
West Midlands, B11 2JP
Tel: 0121 244 5414
Mobile 07459636900
APS Bank
Cottons Centre
Cottons Lane
London
SE1 2QG
NOOR AND AMIS AUTO
Sort code: 087199
Account no: 03709910
Below is a conversation I had with the Birmingham Police after I received a letter from Action Force who  should investigate fraud.
The Police need Action Forces permission before they can peruse NOOR AND AMIS AUTO (My Contact Raheel) who is a fraudster
listen to his telephone discussion and also see the other five victims below
This is a recording of NOOR AND AMIS AUTOs Bank, APS Bank, Cottons Centre, Cottons Lane, London ,SE1 2QG, NOOR AND AMIS AUTO, Sort code: 087199, Account no: 03709910
I rang them to tell them one of their client NOOR AND AMIS AUTO was using the APS Bank to commit a series of frauds. You can judge yourself if they have the right attitude about stopping fraud!
How can this guy rip people off or simply steal peoples hard earned cash like this and still be allowed to trade and advertise on Gumtree
If you have had a similar experience with this company and Raheel please contact me also report your exparince the above links and we can take the matter further email eric@there-fore.com tel 07477474244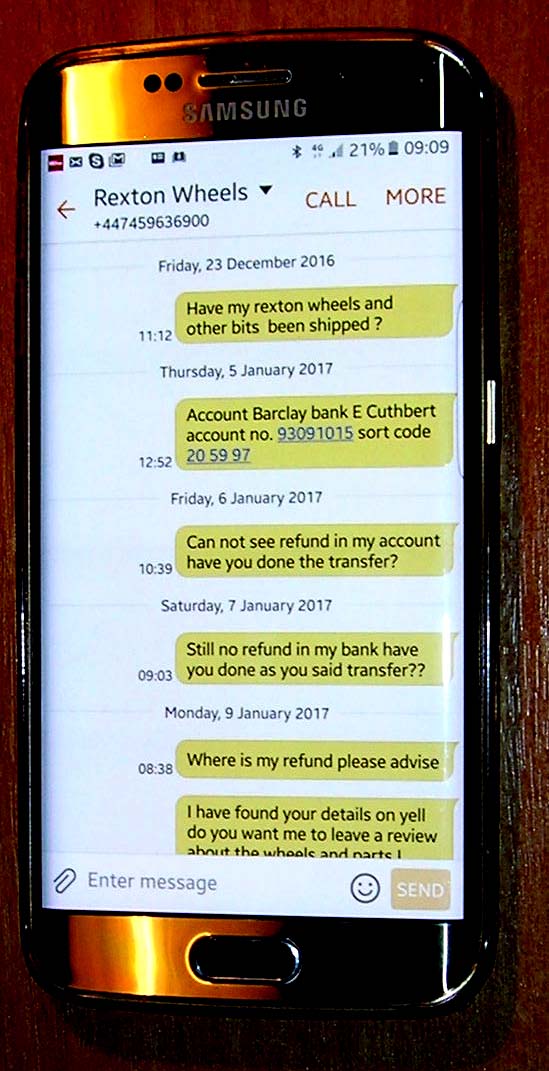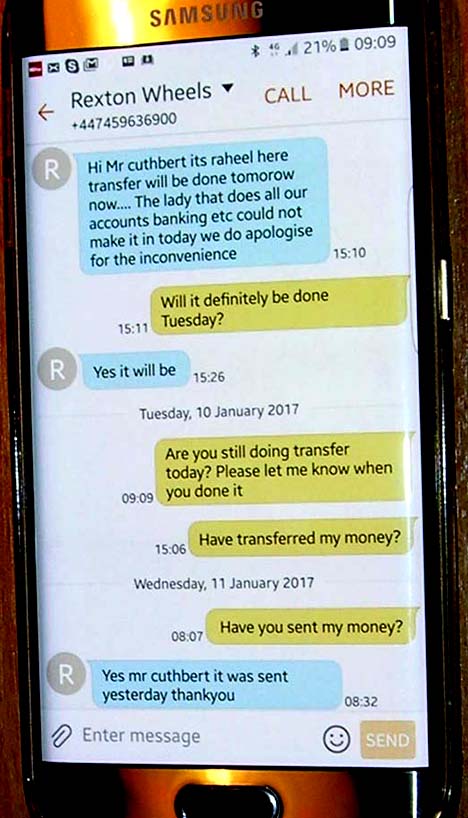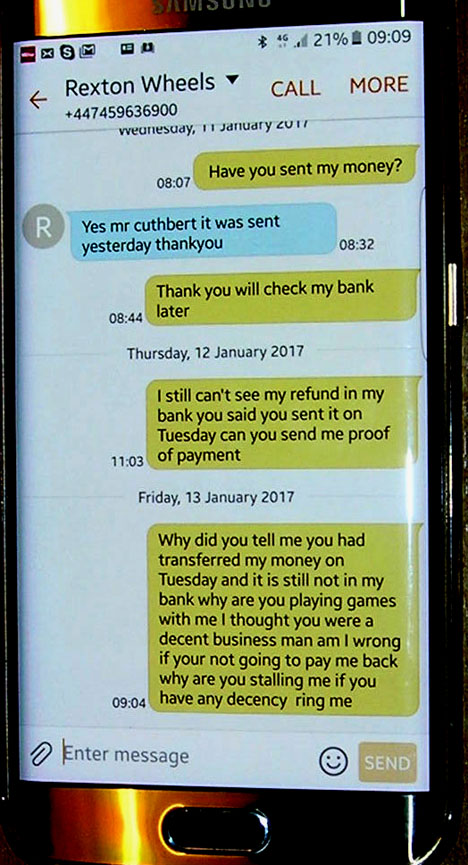 I contacted my bank Barclays to report this fraud and show them the evidence I have they said they would take this further and claim my money back under the indemnity scheme as it is clearly a fraud.
Barclays also said I should contact the APS Bank that Noor and Amis Auto use, and tell them they have a client committing fraud using their bank. I contact them the week before I recorded this follow up telephone conversation it appears they have no record of my call I made the previous week.
The disappointing thing is the girl on the phone didn't seem to want to help me or even try and stop Noor and Amis Auto committing fraud even when I told them I have evidence of another customer being ripped off. See video above.
How can Banks complain about the amount of fraud happening every day and yet do nothing to stop it ???
Another victim of Noor and Amis Auto
Faizan7 Khalid faizankhalid409@gmail.com 07874087886
Copy of email
Hi i have recently purchased some parts for £120 and sent the company the money through bank transfer. We have tried ringing the company and emailing them however there is no reply since Saturday. My dad is disabled and stressed so he does not want to be scammed and would like this to be dealt with. Thanks.
Sent the payment to:
Faizan Khalid Paid the below
Bank Details
NOOR AND AMIS AUTO
Sort code: 087199
Account no: 03709910
£130 paid on 23 Jan 2017
Payment from Arfan khalid
407 Staniforth Road
Sheffield
S9 3FQ
I advised this guy to contact his Bank Lloyds the SAD thing is they just said point blank that he has lost his money as it was a bank transfer so how is Barclays trying to get my money back via the Banks indemnity scheme but Lloyds told this guy he has no case. Again I thing that Lloyds Bank just cannot be bothered to help a customer, I think this is terrible and Lloyds should train their managers properly as the buck stops with them!.
I have also contacted Gumtree to report Noor and Amis Auto but they only will communicate via twitter I told them about the fraud and evidence but again they just say the customer support has not access to the internet and cannot see the evidence how MAD is this!!! So this guy is just placing adverts aging and again and committing fraud
They should have email and telephone numbers so customers can let them know when a fraud is happening but as usual its the small man in the street that has to foot the bill.
Another victim of Noor and Amis Auto
Steven Price stevep11115@gmail.com
Bought a gearbox and wheels for a citroen van on the 30th of December. Paid £300 pound by bank transfer to 08-71-99 03709910.
Steve waited for him 5 times when he promised delivery then finally asked for a refund which he was happy to agree with. After another couple of weeks and about 40 phone calls he doesnt answer. But answered when I used my friends phomne as he though it was a new customers or should I say VICTIM! else's phone.
He uses two number 07405023360 and 07459636900. I have contacted barclays today and they said cannot help I have attached some messages from him.
The POLICE should arrest this guy has is obviousley a crook
see below text messages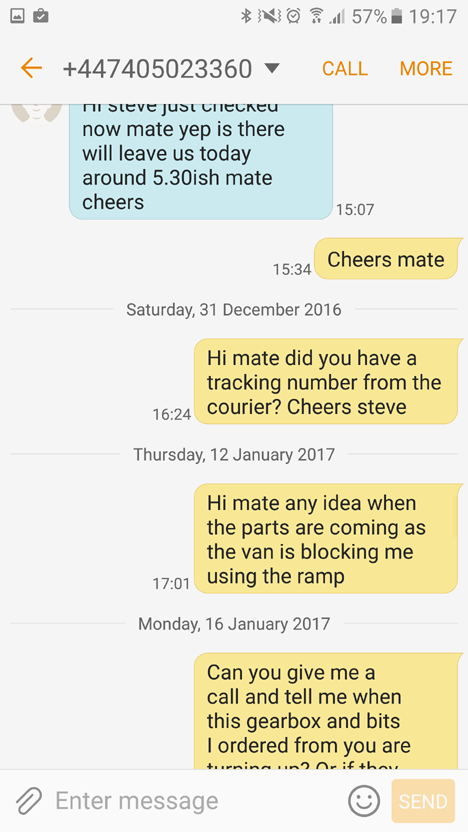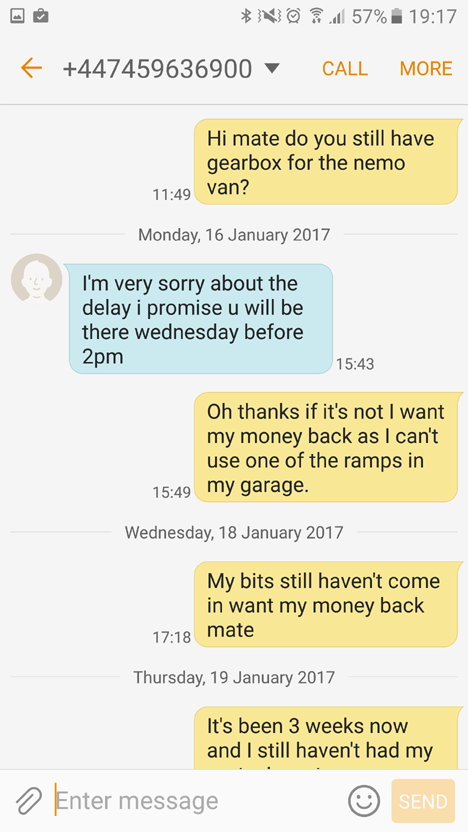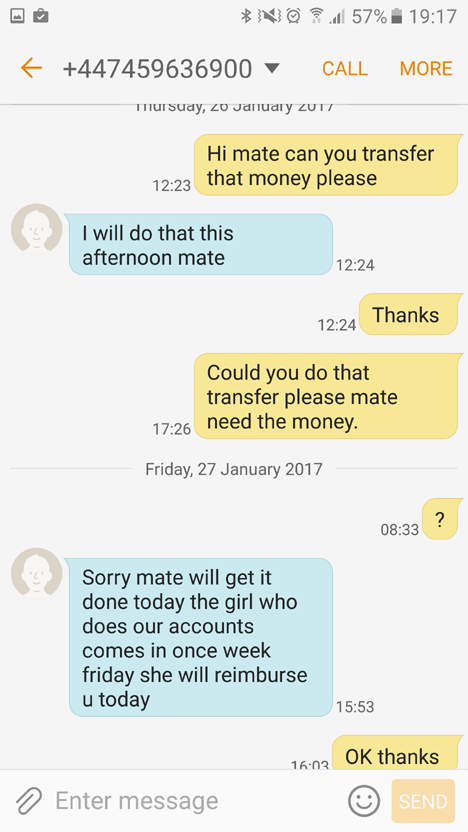 Another victim of Noor and Amis Auto
pat conlon pat_conlon@yahoo.com
First email
Hi Eric,
I have just seen your post on Youtube about Noor & Amis. I got an email from Gumtree this evening saying that I was in contact with a seller that may have been involved in illegal activity. I did indeed order and pay for some parts from Raheel on Monday so having seen your video I am not overly happy at this point. I suppose that I will need to leave it a few days to confirm my worst fears. Have you had any success in getting your money back yet?
Regards
-------------second email----------------
Hi Eric,
Thanks for your reply. I only ordered the parts on Monday so I will have to give a few days to confirm that I have been scammed. I paid £225 direct to the "Noor & Amis" bank account. I will be happy to give all the information you asked for but the details are on my PC at home so it will be this evening before I can send it.. He had lots of ads on Gumtree and the name of the business came up on a quick check on Google so it looked as reliable as you can get on Gumtree.
Cheers
-------------third email----------------
Hi Eric,
As I mentioned earlier I will need to wait a week or so before I can report my case as fraud. The bank account that I paid to was.
noor and amis autos bank sort code 309797 and account number is 23285468
Another possible angle to consider is to put pressure on Gumtree. Did you inform Gumtree of what happened to you and if so on what date? I asked them when they were informed of suspicious activity by Raheel and they said 08/02/17 (yesterday). If they were informed before that then I may be able to press them to accept liability. If enough people were able to do this then a donation could be made by all to the earlier people like yourself to spread the loss.
Cheers
Pat
Save
Save
Save
Save
Save
Save
Save
Save